RJ Gaudet & Associates LLC is a law firm registered in Seattle, Washington with a branch in The Hague, the Netherlands. The firm was established by American lawyer Robert J. Gaudet, Jr. while he was studying complex litigation in Europe under a Fulbright grant.
August 28, 2015 @ 5:35 pm
This week, Robert Gaudet was re-appointed for 2015-2016 to the Case Development/Special Projects Committee of Public Justice.
Public Justice "pursues high impact lawsuits to combat social and economic injustice, protect the Earth's sustainability, and challenge predatory corporate conduct and government abuses" according to its mission statement. The appointment was made by the new president of Public Justice, Brad Moore.  Mr. Gaudet was previously appointed to this same committee for 2014-2015.
The national headquarters of Public Justice are in Washington, D.C. with a West Coast Office in Oakland, California. Read more at http://www.publicjustice.net/.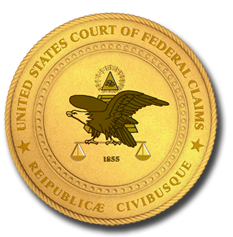 The U.S. Court of Federal Claims today issued a new set of local rules governing cases before the Court. The new rules are available at this link.  Every practitioner before this Court should have a copy of the new rules.  RJ Gaudet & Associates LLC represents Customs and Border Protection canine student instructors with wage and hour claims under the Fair Labor Standards Act in a case that is pending before this Court. Mr. Gaudet has defended depositions in San Diego and Washington D.C., drafted a brief, and conducted legal research on behalf of the Plaintiffs in this case against the U.S. Government.

On August 6 and 7, 2015, El Paso and Juarez will host a bi-national conference called "A View From the Border" that is free to attend with presentations mostly in El Paso as UTEP (University of Texas El Paso) with one presentation in Juarez at the Cultural Center of the North. The agenda is available at this link.
Speakers will include the Commissioner of the U.S. Customs and Border Protection, Gil Kerlikowske; the Mexico Secretary of Energy, Pedro Joaquin Coldwell; the U.S. Secretary of the US Department of Commerce, Penny Pritzer; the Mexico Secretary of Economy, Ildefonso Guajardo Villarreal; Congressman Beto O'Rourke; and many others.
The topics that will be discussed include: "What's Next For North America?"; "Moving People and Trade: What Does the Ideal U.S. – Mexico Border Look Like?"; "People Solving Problems: Where Civil Society Leads the Way"; "The Economic Future of North America: US – Mexico High Level Economic Dialogue"; and "Mexican Energy Reform and the Implications for the North American Economy." This exciting conference will present the views of the most informed leaders in both countries and allow us to envision the future prospects for international trade, movement, and education across the border.
Mr. Gaudet and Mrs. Gaudet-Asmus of RJ Gaudet & Associates LLC plan to attend and are grateful to the staff members of Congressman O'Rourke, including but not limited to Mario Porras, for their hard work in organizing this conference.   More information about the conference is available at this link and registration is open at this link.
By Robert J. Gaudet, Jr.
After reviewing a provocative article posted in the "Stanford Lawyer" by Stanford professor Nora Freeman Engstrom (a former classmate of mine) about the infirmities of the $3.4 billion no-fault Vaccine Injury Compensation Fund that was set up to compensate victims so they don't have to go to court with a lawsuit, I shared the article with a Seattle plaintiff's lawyer, Lee Burdette, who has filed numerous cases with the Vaccine compensation fund. His experience is "quite different than the picture she paints," he wrote.
Nora's article concludes the Vaccine compensation fund takes too long (up to 5 years) to resolve cases instead of resolving them within the 240-deadline and that it does not provide the guaranteed equal treatment to each claimant. Therefore, generalizing from this basis, she suggests that alternative compensation mechanisms might be less useful than traditional litigation in compensating victims in other fields, e.g., medical malpractice.
In Lee's experience, however, the Vaccine compensation fund provides adequate compensation for victims who otherwise would not find lawyers to represent them in lawsuits in court. In addition, many claims are processed quickly, Lee says, and it is only a subset of contested off-the-Table claims and fee disputes that take longer. Lee responded to my email as follows: "if someone did a case by case analysis I think they would find" the following, as written in his own words (with very minimal editing by me):
"1. Many petitions are filed that are a) completely bogus; b) unsupported by proper documentation (medical records, expert reports, etc.); c) pro se. These cases take a long time to get through the system because there is no more lenient court in the world than the vaccine court about giving claimants more time to get it right – if I need another 30, 60 or even 90 days to do something, I simply call my opposing counsel, they agree and we file a stipulation.
2. Much of the time between case opening and closing is often devoted to fee and cost disputes. You would be shocked at the fee applications some of the major firms submit.  It appears that the game for them is to ask for as much as they can and then litigate or negotiate. (By the way, we have never had a fee request challenged – they have all been entered by stipulation).
3. The cases that are brought as Table Injuries go quite quickly. The Vaccine compensation program was designed around the idea that the injuries that are scientifically accepted as being caused by vaccines should be compensated without much discussion. That principle is followed in my view. However, some claimants seek special damages because of the cap of $250K on general damages. That, of course, leads to the typical push back from defendants. Nevertheless, the awards seem pretty generous to me (with the exception of the general damages cap, which is a disgrace – Congress' fault, not the program).
4. Cases that are not Table Injuries take much longer – and that is understandable. Claimants are always pushing to get compensation for everything that happens to them following a vaccination. Some of these claims may be spurious; others may be unsupportable by science. (I wonder how the hundreds or thousands of autism cases affected Nora's averages). In my view, the Special Masters cultivate the principle of giving any tie to the claimant. It is a loose "preponderance of the evidence" standard.
Now, most of our cases are non-Table Injuries. Our experience is that the vast majority of them don't exceed the 240-day guideline. We do have a beef with how long it takes to get the claimant's money and our money (separate checks) after the case is concluded. It can be, often is, a few to several months.
All in all, I think the program is superior to litigating against drug companies, which I've done many time. Most of the people who go through the Vaccine Court would not even be able to get an attorney if the only recourse was to sue Merck or its ilk. Just too expensive for the types of claims that are typical."
Nora's article says she "studied nearly three decades of previously untapped material" but it's not clear whether she interviewed any plaintiff's lawyers, like Lee, or gathered anecdotal information. The latter approach served Prof. Deborah Hensler very well when she wrote a well-regarded book on class actions when she was employed at the Rand Institute. Given the differences between Nora's apparently paper-based research and Lee's real-world experience, it may be that this topic deserves a more in-depth look with a different methodology. It was good of Nora to dig through decades of materials, shine the light of inquiry, and raise this topic for discussion. She has nicely served the public and academia with her research.
The fund is a subject of criticism and debate.  According to an episode on NPR, as overheard by Lee, the government intentionally does not publicize the fund because it is concerned that people might become more scared about using vaccines.
By Karin Gaudet-Asmus
On May 16, 2015 Stanford alumni from all over the world joined forces to make a difference in their local communities by volunteering for a day. This initiative, called 'Beyond the Farm', takes place every year in May. For May 16, 2015 Robert Gaudet and Karin Gaudet-Asmus helped organize this event in El Paso, Texas. A first for the city!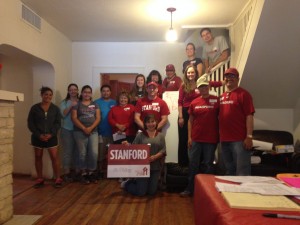 Together with Jose Luis Vilarreal, an officer of the alumni group in the region (El Paso Del Norte Stanford Alumni), we considered various local charities that could use the help of Stanford alumni for a day. As the charity of our choice, we picked Reynold's Home, a shelter for women and children. Reynold's Home celebrates its 25th anniversary this year.
Dr. and Mrs. William J. Reynold's opened up their private home, a two story farmhouse built in 1926, to families in need. After the Reynolds passed away, their children (including current director of the home, Dorothy Truax) recognized what a great resource the home was for providing families in need with a place to stay while they put their lives back in order. Reynold's Home is now publicly known as a shelter in El Paso and the community is welcome to help the shelter with their mission. One of their main projects at the moment is the building of a storage facility, for which they could use the help of a construction company and electrical expertise.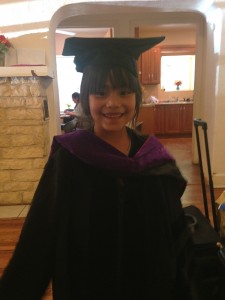 The families in the shelter typically have problems with domestic violence, immigration issues, poverty and other crisis situations. While at the Reynolds Home, individuals are expected to go to school and find employment. They acquire the skills to live productive lives when they leave. Families reside at the shelter for periods ranging from one month to two years. Dorothy personally takes time each week to talk to all of the ladies staying in the shelter to help them overcome obstacles on their way to independent living. The ladies are directed towards school programs, job counselors, life-skills classes, health programs, daycare and other resources in the community. Even when residents leave, Reynold's Home provides them with occasional assistance in the form of food, payment of rent, deposits or utility bills. Reynold's Home provides the women with a family for life!
A group of approximately 15 Stanford alumni, friends and family signed up for the El Paso Beyond the Farm initiative at the Reynold's Home. There were multiple events scheduled for each part of the day, and activities included crafts, sports, and educational presentations, as well as a marketing and manual labor effort by the volunteers. Before the activities started in the morning, one girl – after observing the strangers in her house – asked me [Karin] whether we were there to entertain the kids. When the answer was affirmative, the girl shrieked and quickly ran upstairs – probably to inform her siblings and friends of the fun that was to be had.
In the morning, kids interested in crafts joined a competition led by volunteer Sandy V. and other members of Wise Latina International, as well as Stanford alum Andrea, to make the nicest painting of Reynold's Home. The winners received coloring books as prizes. Stanford alum and Emmy award winner, Liz, together with volunteer Amanda, used the kids' drawings to update promotional materials for Reynold's Home. Some of the kids preferred to play sports and joined volunteers Gilbert and Mario for a game of soccer in the morning and football in the afternoon. In the afternoon, kids interested in crafts used q-tips to paint in pointillism style, as instructed by volunteer Glennis, with help from Isabella and others. The women got crafty, too: I gave instructions on how to make a print on canvas with gesso. Volunteers Monica and her daughter Cristina, who had her prom later that day, babysat some of the smallest children while the moms were crafting. Between craft sessions, Robert Gaudet gave a presentation to the women on wage and hour law and on how to expunge criminal records. Sandy C. of Wise Latina International helped translate the legal presentation and craft instructions, and helped out moms with the crafting activities. The handy men and women among us, such as volunteers Bryan and Terri, sanded and painted a greenhouse. The volunteers, staff, children and moms alike enjoyed the barbequed burgers and hot dogs that were prepared by Reynold's Home's own volunteers, Josh and Amanda, while listening to a presentation by Liz of Wise Latina International, a group that's focused on empowering women. But perhaps the biggest hit of the day, for both the moms and the kids, was the Kung Fu lesson provided by Matt, a friend of Stanford alum Bryan and his wife Glennis, who takes Kung Fu classes.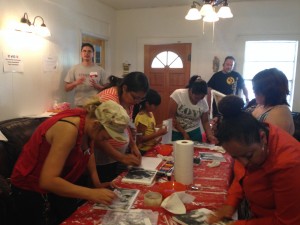 Robert Gaudet was all too familiar with this concept of volunteering for a day from his time at Stanford. While a student at Stanford Law School, he organized a similar day of service called 'Building Community Day' in early 1998. He facilitated students from different faculties to work together and clean up East Palo Alto. A few years later, the 'day of service' initiative seemed to have changed: instead of giving Stanford students an opportunity to give back to their community, it gave the inhabitants of Palo Alto a chance to visit Stanford as an 'open house' organized by the office of the president at Stanford. Now, 'Beyond the Farm' seems to be a new iteration of Building Community Day but with a broader (inter)national scope.  The annual day of service reflects one of Stanford University's founding principles, inspired by the words and beliefs of Jane Stanford, to "render the greatest possible service to mankind."
We hope we made Jane proud. We thank all volunteers (including the ones not mentioned by name here) who made this day possible.
By Robert J. Gaudet, Jr.
From April 24-25, I attended a nationwide conference on workers' rights, organized by NELA (National Employment Lawyers Association). The participants arrived from around the country to share experiences representing employees as the "good guys" in the courtroom.
One speaker, a Texas lawyer, remarked, "no restaurant complies" with the Fair Labor Standards Act (FLSA). Aside from requiring employers to pay at least the minimum wage (which is now $7.25 nationally) and one-and-a-half times the regular rate for overtime beyond 40 hours per week, the FLSA also requires employers to give written notice to their employees about their rights to overtime pay. I asked a few other lawyers at the conference if they agreed that all restaurants violate the FLSA. Surprisingly, all of them did. Apparently, virtually every restaurant violates one or more of the FLSA requirements, especially the requirement to give written notice.
The home care industry was identified as a field that needs more litigation to protect the rights of employees. "There are violations everywhere," a speaker noted, and it is a "growing wild west industry." About 2.5 million people work in home care and 70 percent of them are employed by private, for-profit companies, many of which do not follow the rules. Companies can earn, for instance, $19/hour for care but pay just $8/hour to care givers. Some companies have engaged in Medicaid fraud which can be grounds for a separate whistleblower, or qui tam, action against the same defendant.
One speaker stated that, in 2016, Texas regulations will bring new rights for a minimum wage and overtime for employees who provide elderly care. The speaker also predicted that more workers will be put on fluctuating workweek schedules in 2016.
Speakers shared useful tips. One advised that plaintiff's lawyers should, when they start representing a client with a new grievance, file a FOIA request with the Department of Labor to find out if there were any previous complaints against the same employer. Another speaker said she might discuss settlement with a defendant before filing a complaint but she will ask the defendant to enter into a tolling agreement. That way, her clients are not penalized under the statute of limitations for taking time to negotiate.
The United States Solicitor of Labor, M. Patricia Smith, spoke at the conference. She noted that, after the Obama Administration releases an overtime rule, staff will next prepare Administrative Interpretations. The Bush Administration had revamped the FLSA by issuing Opinion Letters on the day before President Bush left office. The Obama Administration will not issue Opinion Letters but rather prefers Administrative Interpretations, which will be issued in the near future. The Obama Administration has, so far, issued roughly 100 Fact Sheets, which are available at the Department of Labor's website (www.dol.gov).
As did other speakers, Ms. Smith noted a common violation of FLSA is the misclassification of workers as "independent contractors" when they are, in fact, employees. She said this problem is especially prevalent in the construction industry. Ms. Smith related that, in an Arizona Tract case in Arizona and a GSA Systems case in Utah, the Department of Labor obtained consent judgments against companies that had misclassified employees as "owners" of the LLCs when, in fact, they were simply employees.
Janitors and cleaning personnel are often misclassified as "independent contractors" when, in fact, they are employees with legal rights to compensation under the FLSA. Similarly, cable installers and health care works are often misclassified. Ms. Smith noted that the home care industry will see a 40 percent increase in the next years for both the elderly and disabled.
In a separate panel discussion on arbitration, speaker Shannon Liss-Riordan noted that 40 percent of companies are inserting mandatory arbitration provisions into their employment agreements. That is a stark increase from several years ago when it was closer to 16 percent. The result is that employees, now, have less access to courthouses. They are increasingly forced into arbitration to settle legal disputes with employers.
Another speaker noted, "arbitration is faster and cheaper" with some advantages over traditional litigation. The speaker advised that lawyers should "go for it." Among other things, employers are required to pay for the cost of arbitration under the AAA and JAMS rules.
With a wide variety of speakers including a government representative, private practitioners, and a judge, the NELA conference covered the basics of wage and hour law but offered enough sophistication for veterans, like Jac Cotiguala of Chicago who's belonged to NELA for decades, to learn about new legal developments. The conference, called "Protecting Pay: Representing Workers With Wage & Hour Claims," took place in The Sphinx Club in downtown Washington, D.C.
Because I practice in El Paso, I was interested in what participants thought about the risk of deportation for illegal immigrants who stand up for their rights. During her remarks, Ms. Smith said the Department of Labor ("DOL") has a Memorandum of Understanding with Immigration and Customs Enforcement ("ICE"). ICE sends DOL a list of names to DOL before it does a workplace audit. ICE then "stand[s] down," stopping any deportation proceedings against illegal immigrants if there is an DOL investigation into an employer's violations of labor laws against the same people.
I asked a few private lawyers if their clients had ever been deported or if they had ever seen that happen as a result of the clients' participation in private lawsuits. They said no. One lawyer from a large employment firm had not seen that happen. A senior lawyer with decades of experience had, also, not seen illegal immigrants ever deported for participating in a private lawsuit. The consensus seemed to be that illegal immigrants who file lawsuits under the FLSA are not at risk for deportation unless they have been convicted of felonies.
On the day immediately before the conference, some NELA members, including myself, consulted with elected officials and their staff in the U.S. Congress. Another member of NELA and I met with Counsel for Senator John Cornyn (R-TX), in the Hart Senate Office Building, to discuss the Arbitration Fairness Act and the Civil Justice Tax Fairness Act.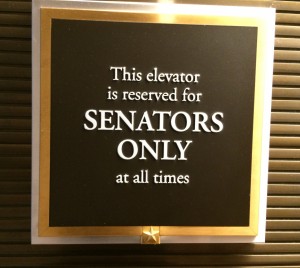 After the conference, the exchange of practical and legal ideas has continued through the vigorous NELA listservs. As it turns 30 years old, NELA has become a valuable resource for lawyers who care about the rights of employees.
April 21, 2015 @ 10:33 pm
On April 21, 2015, Judge Francisco Dominguez of the 205th District Court, a Texas state court, swore Robert J. Gaudet, Jr. of RJ Gaudet & Associates LLC into the Texas bar.  Here is the video footage on Twitter and here is a separate link: TX Bar swearing in judge dominguez  The swearing-in took place inside Judge Dominguez's chambers inside the El Paso County Courthouse.  Judge Dominguez was recently elected by El Pasoans and took the bench in January 2015. He formerly represented plaintiffs and employees in private practice.
The swearing-in took place within the El Paso County Courthouse which holds courtrooms as well as the District Attorney's Office.  The bottom level holds a cafeteria that serves burritos with chorizo and egg, a rarity among government buildings in the United States.  RJ Gaudet & Associates LLC announced Mr. Gaudet's swearing in with a Tweet that garnered a reply, on the same day, from the State Bar of Texas which Tweeted, "Congratulations!"  As the state bar's reply shows, Texas is truly a friendly state.
Inside the El Paso County Courthouse, there is a  statute of lady justice within the entrance.  She serves as a reminder of the ultimate purpose of the courts, the role of lawyers, and the judicial system.  She is colored with natural light from skylights in the roof.
Coinciding with the swearing-in of Mr. Gaudet, the firm is pleased to announce the opening of a new address at 309 East Robinson Avenue, El Paso, Texas 79902.  In addition to this new El Paso address, the firm maintains addresses in Seattle and The Hague as well as a correspondence address in London.
From the firm's office in El Paso, Mr. Gaudet is working with the Kern Law Firm on a Fair Labor Standards Act (FLSA) class action in the U.S. Court of Claims in Washington, D.C. on behalf of customs and border patrol agents in El Paso and other locations who were not compensated for mandatory time that they spent studying in order to gain certifications required for their jobs.  The defendant is the U.S. Government.
RJ Gaudet & Associates LLC welcomes referrals and inquiries about class actions, civil rights, wage and hour employment, and other legal matters.
The past year was eventful for RJ Gaudet & Associates LLC. Some of the cases we've been working on for several years have come to a close or are near-closing. In 2014, the firm's main operations shifted from Europe to the USA to be able to work on some of the firm's cases that were heading towards trial more intensively. The firm still maintains its main office in Seattle with a branch in The Hague and Of Counsel and consultants located in various states and countries.
The first case worth mentioning in this overview is a case [case No. 12-cv-01496] against several defendants* regarding civil RICO, unfair competition law, breach of contract, and other claims, which was filed in the US District Court for the Central District of California. The plaintiffs do business in equestrian fashion, selling horse supplies and accessories as well as horse riding apparel. They extended their market to North America, but their business agents and competitors ruined this plan by stealing, committing fraud, and misleading the plaintiffs. In mid-2014, most of the defendants opted for a settlement. In late 2014, two defendants agreed to a stipulated judgment of $150,000, which will be enforceable in case these two defendants do not pay the scheduled installment payments.
A second case we worked on extensively during the past year was an employment discrimination case against Port of Seattle, which was filed in the US District Court for the Western District of Washington [case No. 2:13-cv-00545]. Mr. Gaudet was in Seattle to take and defend depositions, prepare for trial, and attend trial. The firm was successful in defending many of the claims against the Port of Seattle's motion for summary judgment. Only less than 2% of civil law cases in federal courts go to trial, which means most cases do not get past the motions to dismiss or for summary judgment or are settled. Defense counsel noted in a brief that Mr. Gaudet litigated like a big law firm. Mr. Federici assisted with the proceedings before trial while other co-counsel assisted with the trial in federal court in Seattle. The trial started in the beginning of September and lasted for about two weeks. Many witnesses were served with subpoenas to deliver testimony. Unfortunately, the jury did not decide in our client's favor.
A third case that we spent time working on in the past year was a case against American Medical Systems (AMS) [case No. 2:13-cv-23053] regarding a defective transvaginal mesh product or, more specifically, the Monarc Hammock which eroded inside our client and required multiple surgeries to remove. The case is being handled by the US District Court of the Southern District of West Virgina, in history's largest MDL (multi-district litigation). With the assistance of co-counsel, we settled this case. A motion to dismiss will soon be filed. Women with similar problems should contact our firm through the contact form on this website.
Finally, the US Court of Appeals for the Ninth Circuit decided in April 2014 on a case the firm had worked on. Mr. Gaudet objected to a class settlement that class counsel had agreed on with Apple, Inc. for their defective powercord adapters. The District Court approved the settlement, and requested objectors to post a bond. Mr. Gaudet appealed the decision of the District Court and pointed out in briefing – among other things – that the class counsel (the lawyers representing the class) were paid too much in attorney's fees while the compensation for the class members themselves (the people who had bought defective powercords) was insufficient. The Court of Appeals vacated the settlement and sent the case back to the District Court to reassess the settlement.
Some personal highlights of the past year are the following:
o Ms. Tatjana Ribic, Legal Consultant, is working as a member of the Serbian Republic Commission for the Protection of Rights in Public Procurement Procedures. In the fall of 2014, she attended a 10-day training session in The Hague on public procurement issues, especially in connection with the rule of law. The training was one of MATRA's Pre-Accession Training Programs, funded by the Dutch government and provided by T.M.C. Asser Institute, to help accession states, such as Serbia, with the implementation of the EU Acquis. Ms. Ribic kept up-to-date with European public procurement developments and also gave training on public procurement issues through Paragraph, a private Serbian company.
o Mr. Joe Federici, Of Counsel, left his position as counsel for the American University of Afghanistan and enrolled in the School of Foreign Service at Georgetown University. He started an internship at the United States Senate Committee on Foreign Relations and still serves as the co-chair of the Human Rights Committee of the Section of International Law of the ABA. Mr. Federici worked intensively on a couple of the firm's cases, including the Anitei v. Port of Seattle for which he drafted a motion to compel that was granted in part. He also worked on discovery matters for the Equine Industry et al v. Juan Ayora et al case and successfully responded to motions to dismiss.
o Prof. Ingrid Detter de Frankopan, Of Counsel, published a new copy of her book, The Law of War. She will open up her French estate for an Academy of War Studies (AWS), which will be incorporated as a charity in England. The point of AWS is to have high level discussions and seminars to reduce the chance of armed conflict. We will keep you posted on any news regarding AWS. Prof. Ingrid Detter de Frankopan will continue to practice law in various jurisdictions. As a licensed lawyer in the UK and Sweden, she also assists the firm with Barboni v. Argentina on behalf of bondholders whose May 2004 Euro Medium Term Note program bonds are governed by English law. Prof. Detter de Frankopan was present at the inauguration of the new President of Croatia, Ms. Kolinda Grabar-Kitarović, in February 2015. Ms. Grabar-Kitarović is the first female head-of-state of Croatia since it entered a non-communist era in 1990.
o Ms. Gaudet-Asmus, legal consultant, is applying for LL.M. programs because an American LL.M. degree will make her eligible to become a licensed lawyer in the US. In the meantime, Karin will keep working for the firm. Moreover, she will teach Dutch language and culture courses at the University of Texas, El Paso this upcoming summer. She is also volunteering part-time for Las Americas, a local advocacy center which assists asylum seekers, victims of crime, and other immigrants with legal immigration matters.
o Mr. Gaudet, a lawyer who is licensed in Washington state, is seeking admission to the Texas bar. He is currently working on federal cases, including Barboni v. Argentina regarding Argentina's default on its bonds. Mr. Gaudet also worked with a Texas law firm to revise the job description of the Dallas County Court Reporters Association in conformity with the Fair Labor Standards Act. Moreover, Mr. Gaudet recently started to assist with prosecution of a class action in the U.S. Court of Federal Claims in Washington, D.C., Almanza v. United States. It is a Fair Labor Standards Act and Customs Officer Pay Reform Act opt-in class action against the US Government on behalf of Customs and Border Patrol Agents. Even though the firm's main activity moved to the US, Mr. Gaudet wants to keep the strong ties the firm has with Europe and is interested in assisting lawyers in Europe to increase access to justice for plaintiffs in Europe. For instance, he is now cooperating with a firm in Europe to obtain information that may be useful to prosecute transvaginal mesh cases in European national courts.
The firm continues to seek justice on behalf of people who have been injured and to contribute to broader global issues of human rights, peace, and advocacy. The firm and its colleagues have dedicated a large portion of their time in the past year to public service and pro bono matters.
[* defendants to the lawsuit were: Juan Ayora, Ernest Nick Collins, Kathleen Collins, D5 Global Inc, Does, Christa L Endicott, Michael Endicott, Tal Goldstein, Jill Humphrey, Megan Hunt, Martina Lazorova, Rudy Leone, Leone Equestrians Inc, Ocean Point Equestrian, Pegasus Show Stables Inc, Rolling Meadows Inc, Deirdre Seeds, Erin Seeds, Lisa Sweet, Monica Ward-Hiett, Allon Equestrian LLC, Juan Ayora and Ayora LLC]
February 4, 2015 @ 5:47 pm
By Karin Gaudet-Asmus – February 4, 2015  
Recently, a Dutch TV show for consumers, Radar, featured a report on how easy it is for manufacturers of medical devices, such as transvaginal mesh products, to have their product approved for the European market. Back in 2012 this TV program broadcasted a show informing Dutch consumers about faulty transvaginal surgical mesh slings that were used to treat pelvic organ prolapse and stress and urinary incontinence.
In the United States, more than 40,000 patients individually brought cases against the manufacturers of these same defective medical devices. These cases from all over the US were assigned to one court, the United States District Court for the Southern District of West Virginia. By aggregating the cases through a special federal legal procedure called Multidistrict Litigation (MDL), the process of handling these complex cases has been speeded up.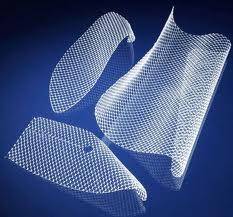 Of all these cases, at least twenty were filed by injured individuals from New Zealand. The defendants, manufacturers Ethicon, Inc. and Johnson & Johnson, Inc., moved to dismiss their claims based on the forum non conveniens doctrine. Forum non conveniens is a doctrine that permits a district court to dismiss (or transfer) a case if the current forum, the US, is inconvenient. Defendants have to show that there is an adequate alternative forum, meaning that forum (here: New Zealand), is (1) available, (2) adequate, and (3) more convenient in light of the public and private interests involved. [1]
In the case of the New Zealanders, Judge Goodwin decided the motion to dismiss on February 18, 2014 (Solvander v. American Medical Systems, Inc., 2:13-cv-19418, MDL No. 2325, Doc. 13). The court granted the motion to dismiss, after deciding New Zealand fulfills all the requirements of an adequate alternative forum. Technically, the motion to dismiss was filed only by defendants Ethicon, Inc. and Johnson & Johnson, Inc. American Medical Systems (AMS) did not file a similar motion. However, most likely, the same holding would apply to the claims against AMS because the court's February 18 decision was filed on the AMS docket and the same reasoning would apply.
After analyzing Judge Goodwin's decision to dismiss the cases of the New Zealanders, RJ Gaudet & Associates LLC believes the court would similarly dismiss cases brought by injured Dutch victims against manufacturers of faulty medical devices in the US, at least as long as their circumstances are similar to the circumstances of those of the New Zealanders, e.g. they were treated outside the US.
As a summary, the US legal system most likely does not allow Dutch victims of faulty vaginal mesh products to claim damages in the US, as any case that would be filed in the US could be dismissed on request of defendants by the judge on the grounds of forum non conveniens. Dutch victims will have to pursue access to justice in the Netherlands, instead.

As for the thousands of existing claims, on February 5, 2015, the court in West Virginia will hold a status conference. The court has required defendant client representatives "with full authority to make all decisions related to MDL 2325" against AMS to attend. In the US, RJ Gaudet & Associates LLC represents clients against AMS over defective transvaginal mesh products, e.g. the Monarc Hammock.
[1] In 2012, we wrote about the topic of forum non conveniens in the US for a Dutch audience in cooperation with Ms. Antoinette F. Collignon-Smit Sibinga from Legaltree Collignon who posted the piece
on her blog
.    
By Prof. Dr. Ingrid Detter de Frankopan
Due to the recent passing of Eduard Shevardnadze, it is fitting to remember his enormous contribution to the field of international human rights during a time in which the Soviet Union had not accepted the jurisdiction of the International Court of Justice with respect to human rights agreements.  His vision led the Soviet Union to the  recognition of international human rights instruments with long-term impact.
The Communist regimes with which Mr. Shevardnadze worked had one obsession that made all other principles fade away in comparison: the State decides. That meant that if the State (= the Communist Party) decided on an action, the validity and usefulness of that could not be questioned. Above all, the consequences of this exaggerated stress of the importance of State power implied that rules of international law had no effects at all inside a State.
On the one hand, the communist doctrine predicted the 'withering of the State'; this was an important idea of Lenin (and Marx & Engels) but this was somewhat marginalized under Stalin to whom the notion of a strong communist State was paramount.
On the other hand, the function of international law was, to the communists, merely a system of relationships between States with no internal effects at all: to even discuss Human Rights in another State was seen as illegitimate interference or illegal 'intervention'. Numerous protests in the General Assembly of the United Nations during the time of the Soviet empire show how sensitive communist leaders were when it came to discussion of human rights inside their countries.
This was the attitude of the entire communist bloc in Eastern Europe plus China and Cuba. Even other non-communist States had adopted similar views, often under the guise of claiming to have a 'dualist' view of the relationship of internal law and the  international legal system. For example, Sweden, under a socialist government, resisted any attempt to allow the incorporation of international standards without a formal 'transformation' into municipal law. Traditional textbooks in international law claimed that there were no 'intrinsic' rules on human rights: all would have to be incorporated into Swedish legislation to be operative.  This was the case until I was nominated in 1988 to the Lindhagen (ironically Lindhagen was the Mayor of Stockholm who welcomed Lenin to Stockholm in 1917!) Chair of International Law at Stockholm University when I published my own textbook (The International Legal Order, 1st ed., 1990); the Prefect of Law Faculty suggested I should remove the three pages on 'intrinsic' rules as this view was 'not compatible with Swedish law'. Rather than agreeing to this, I expanded these views into three chapters and then resigned from the professorship in 1995.
But before then, in 1989, the eminent Foreign Minister of the USSR, Eduard Shevardnaze, made an astonishing announcement: the USSR decided to ratify the UN Covenants on Human Rights.  As I mention in my International Legal Order in the following lengthy excerpt is appropriate to quote at this time as an explanation of Mr. Shevardnadze's significant impact on international human rights:
 "A noteworthy statement was made by the then Soviet foreign minister Shevardnaze on 9th March 1989, in connection with the ratification, by the Soviet Union of the United Nations Covenants on Human Rights: also the Soviet Union – although it adhered to the dualist doctrine – admitted the supremacy of rules of international law on Human Rights. The document does not limit this supremacy to only basic Human Rights but states that, as a system, international law is higher than national laws. The Soviet Union notified the United Nations of the withdrawal of its earlier reservations concerning the compulsory jurisdiction of the International Court of Justice in respect of agreements relating to Human Rights. The Representative of the USSR asked, in an accompanying note, that the letter of Mr Shevardnaze be distributed as a document of the General Assembly and Mr Shevardnaze himself, who obviously attached considerable importance to the statement, asked the Secretary General, as depository of the relevant Human Rights treaties, to distribute his letter `as an official document of the United Nations'. He wrote
`The Soviet Union, which attaches great importance in present circumstances to enhancing the role of the International Court of Justice in world affairs, has begun to consider the question of withdrawing the reservations which it made previously to a number of international treaties concerning the jurisdiction of that judicial organ. Given the importance of the further promotion of co-operation among States in the humanitarian sphere, it was deemed desirable to begin the process by dealing with Human Rights agreements.'
In the light of the above, on 10th February 1989, the Presidium of the Supreme Soviet of the USSR adopted a decree whereby the Soviet Union accepts the compulsory jurisdiction of the International Court of Justice in respect of the following international treaties: the 1948 Convention on the Prevention and Punishment of the Crime of Genocide, the 1949 Convention for the Suppression of the Traffic in Persons and of the Exploitation of the Prostitution of Others, the 1952 Convention on the Political Rights of Women, the 1965 International Convention on the Elimination of All Forms of Racial Discrimination, the 1979 Convention on the Elimination of All Forms of Discrimination against Women, and the 1984 Convention against Torture and Other Cruel, Inhuman or Degrading Treatment or Punishment.
            The Soviet Foreign Minister Mr Shevardnaze then went on to underline the reasons for this change in Soviet acceptance of the compulsory jurisdiction of the International Court of Justice and commented on the revised attitude of the Soviet Union to international law in general. He said
`In taking this decision, the Soviet Union was guided by the desire to strengthen the international legal order, which upholds the primacy of law in political affairs. In advocating the primacy of international law, we take the position that international legal norms and obligations of States take precedence over their domestic enactments.'[1] (Emphasis added.)
This is a forceful statement which underlines the primacy of international law. The Soviet Union was one of the communist States which had earlier claimed that sovereignty implies full freedom of the State to act. But this indicates that, even if a State with such views on sovereignty, there are certain important basic rights in international law which must not be set aside in internal legislation.' (International Legal Order, 2nd ed., London, (Dartmouth), 1994, pp 172-174)
The legacy of Mr Edward Shevardnaze will go down to history as a brave man who, eight months before the fall of communism, defied one of the most fundamental precepts of communism, the one about the primacy of national laws above intrinsic and fundamental rules on human rights in international law!
About the author: Prof. Dr. Ingrid Detter de Frankopan is a Barrister in the United Kingdom who has represented a sovereign nation before the International Court of Justice and formerly served as legal advisor to the Holy See.  Her latest book, The Law of War (3d ed.), was the subject of a book launch in June 2014 at Oxford University.  She  represents private parties in international commercial arbitration and other disputes.
---
     [1]               General Assembly document A/44/171, 9th March 1989.